Tonka-Sour by Ulric from BAR-FACE
Wahrscheinlich sind alle Menschen gerade mit ihren "Vorsätzen" für 2020 beschäftigt…mehr Sport, Diäten… weniger Alkohol? Nun, Ihr könnt Euch den Tonka-Sour ja auch teilen, das wäre dann weniger Alkohol.
Erinnert Ihr Euch, dass ich vor Weihnachten, bei dem Coffee-Cocktail, einen weiteren Cocktail aus der Studio-Session mit Ulric und Pam versprochen habe?
Hier ist er! Der Tonka-Sour by Ulric from Bar-Face
I have a confession to make. I am an addict!
I am completely taken by anything that contains coumarin… This subtle, inebriating natural compound with a rich aroma of spiced vanilla, a touch of herbaceousness and Jamaica peppers… I will go as far as saying that this is one of the reasons I moved to Germany; where woodruff and tonka beans are not considered dangerous and are readily available in all supermarkets and Bison grass vodka is not flavored with an artificial replacement but the real thing!
These three ingredients all have coumarin in it, and you can smell and taste it. Yes, I know that coumarin is a blood thinner and can be dangerous if taken in large quantities, but let's be realistic; I would probably die of alcohol poisoning before I get any side effect from the coumarin!
Imagine my surprise when I came across a German brand called Meermaid, A German rum infused with Tonka bean. I rapidly got to know the producer of this wonderful product and we became friend! Stefan has been carefully and lovingly infusing and ageing in rums in Berlin, and his product is a bit of a cult among aficionado.
However, my coumarin adventures continued, when I came across a German gin flavored with Tonka and yet another from Franken distilled with woodruff and more recently a Tonka bean infused salt created by the Rocking Chefs… Needless to say, my roots are now firmly established in Germany!
This cocktail is a wink to all my addictions and will -unfortunately- not be possible for anyone in America, where anything containing coumarin is deemed illegal! (poor, poor you!)
My favorite cocktail key is the sour. Quite a simple cocktail on paper, but very difficult to make properly. And let me get something straight; if it hasn't got any egg white (ok… foam if you are vegan!), it simply is NOT a sour; it is just a bad cocktail!
For this Tonka sour I am using Meermaid rum (obviously), fresh lemon juice, egg white sweetened with Maple syrup (Yes, maple syrup does contain a small amount of coumarin as well) and finished with a spray of the Rocking Chef Tonka salt. "why?" I hear you ask… for the same reasons as salt is used in cooking: It lifts the various flavors and also helps fighting off that slightly unpleasant smell that egg white develops quickly.
A quick trick of the trade: Maple syrup is very powerful in flavor and tends to overcome all other ingredients. When used sparingly it give off a great aroma but fails to sweeten and balance the lemon juice properly, so what I recommend is to create a syrup made with 50% sugar syrup from the supermarket and 50% maple syrup… It will balance everything properly and bind all the ingredients together! Oh, and for the truly adventurous, Meermaid rum is also available in a 62%ABV version, which is -obviously- my favorite version! ?
Diesen Januar haben wir eine weitere "Cocktail-Studio-Session/Kameratest" geplant. Lasst Euch überraschen, was den Cocktail betrifft und welche Kamera Euch Pam vorstellen möchte.
Und jetzt: Cheers mit dem Tonka-Sour! Was für ein köstlicher Duft!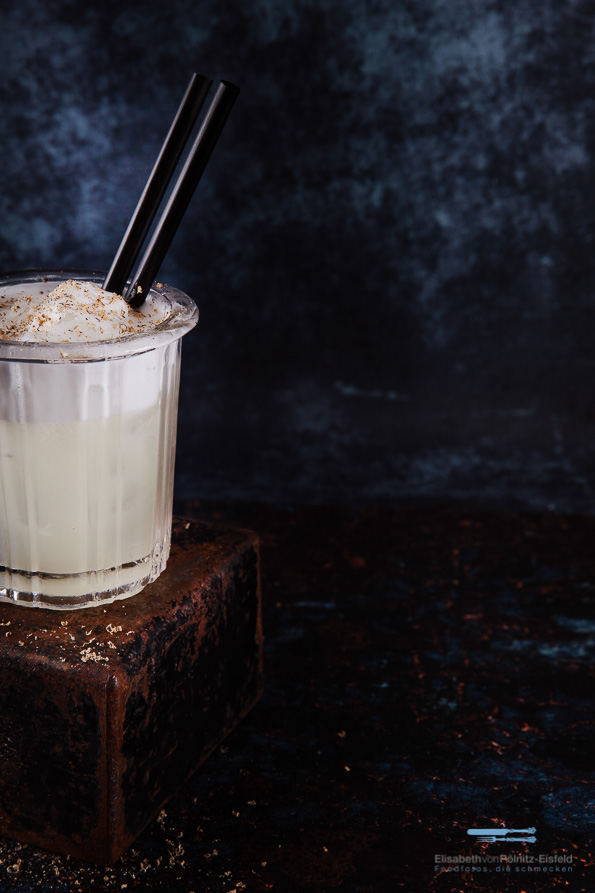 Tonka-Sour
von Ulric from Bar-Face
1 Glas
1 Eiweiß
Saft 1 Zitrone
45 ml Meermaid Rum
20 ml Ahornsirup
Tonka-Bohne
Zuerst das Eiweiß ohne Eis shaken. Anschließend alle weiteren Zutaten hinzufügen und mit Eis shaken. In ein Glas abseihen und Tonga-Bohne darüber reiben.
CHEERS!